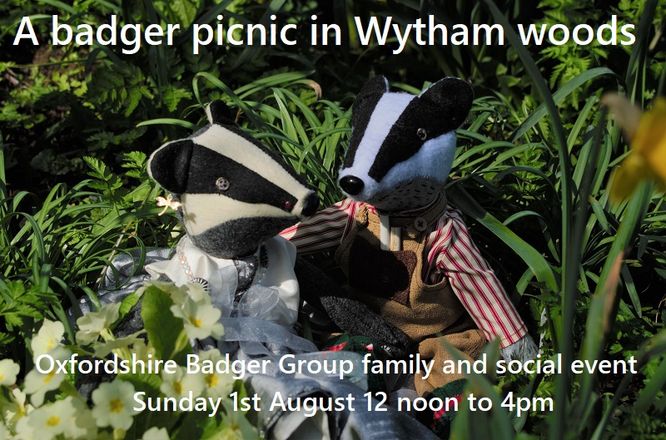 We are delighted to invite our members, their families and friends (but no dogs) to join us for a picnic in the woods. The event will start at noon on Sunday 1st August and finish about 4pm. It will be held in the Wytham Sawmill and yard. If the weather is kind we can picnic outside. If not we can retreat into the Sawmill which has open sides and is VERY well ventilated. Parking nearby !

Bring your own food and drink to the picnic and enjoy meeting like minded badger lovers !
Please register in advance via our website. Details will be sent to you.
If you need wheelchair access or have other special needs please let us know.
Please note that dogs are not allowed in the Woods, with the exception of working assistance dogs.
---
Highlights:
Meet with other members and talk to  our committee

Learn about our badger vaccination and rescue programmes - see how we set traps and capture badgers

Be guided  'off the path' to explore some fabulous nearby badger setts and look for signs of badger activity.

Badger themed goodies for sale, 'name the badger raffle'  and lots of free information leaflets

Walk along idyllic woodland paths

Low risk, outdoor, socially distanced venue, NHS track & trace with hygiene stations

We're hoping to be joined by environmental and animal welfare campaigners, Dominic Dyer and Charlie Moores - see https://offtheleashpodcasts.co.uk/  and by Nigel Fisher, conservator of the Wytham Woods research station.
---
Getting there
The event is taking place in the University research centre at Wytham Woods.
The best way to get there is by car or taxi. Or cycle (uphill)
If you need a lift contact us ASAP and we will try to arrange it.
By car: Drive up to Wytham village. Take the turning immediately next to the White Hart and then turn right onto the private road (signed for the Kiln/ Studio). Keep going up the hill until you reach the car park on the left near the Sawmill.
Follow the badger signs !
---
Meeting safely
We ask everyone to continue to take appropriate measures to reduce the spread of covid. Please don't come if you or anyone close have symptoms or are isolating. Lateral flow tests are freely available.
Please register with track and trace on arrival and do wear a mask when using the toilet/ cloakroom.
That said, the venue is open air and very low risk, there is lots of room for everyone to mingle without compromising your personal space.
---
Images of Wytham Wood and the Sawmill Yard