Natural England released details of the cull licences on 7th Sept 2021. There are 7 new cull zones including Berkshire and a 3rd cull zone is added to Oxfordshire's tally. Last year, 1040 badgers were killed in Oxfordshire.  This year the new 'area 61' allows for a minimum of 875 and a maximum of 1186 badgers to be shot. This years 'targets for Area 49 are 833-1412. So much for the promise to scale back on culling ! The licences will run for four years unless all the badgers are killed or the government sees sense and ends them early.
  It's difficult to imagine how any civilised nation could allow the slaughter of a protected native species on the scale planned by this government. Around 75,000 badgers could be killed this year taking to total killed to over 200,000 since 2013.
Badger populations are being decimated year on year. The stated aim is to reduce the population by 70% each round. Badgers could be at the brink of local extermination across much of the country by the time these licences end in 4 years time.  Yet DEFRA and Natural England continue to resist calls to look at the ecological and environmental effects.
We're desperately sad that the cull is far from over. Many people think the government is ending the cull but clearly the plan is to  kill as many as possible across a wide area before scaling back in favour of cattle and badger vaccination.
There are now 3 zones in Oxfordshire. Since their location is kept secret, we're worried for the safety of badgers across the whole of the county. It's heart breaking to think that the healthy families of badgers we see regularly could be killed, the setts we monitor left empty and falling into disuse. There is always the fear that badgers we have vaccinated may stray into a cull zone and be shot.
Our charity offers a free badger vaccination service to landowners who want a humane and effective alternative to culling. We are just completing a very successful 3rd year of vaccination. We are determined to continue this vital work. We don't get any financial support from the government and rely entirely funded by public donations. If only the government would stop wasting public money on the cull and use it to help farmers control the disease in cattle and to support badger vaccination.
There are many ways you can oppose the cull peacefully and legally. We urge everyone to write again to their MP's.  George Eustace, the DEFRA Minister responsible for the cull claims the badger cull has led to a significant reduction in the disease yet there is almost no evidence to support this. Our Group has taken part in two recent DEFRA consultations on improving the management of BtB. We say it's imply not acceptable to kill badgers.  There are better ways to manage the disease in cattle. Too many  tools in the disease control box are unused due to cost or inconvenience.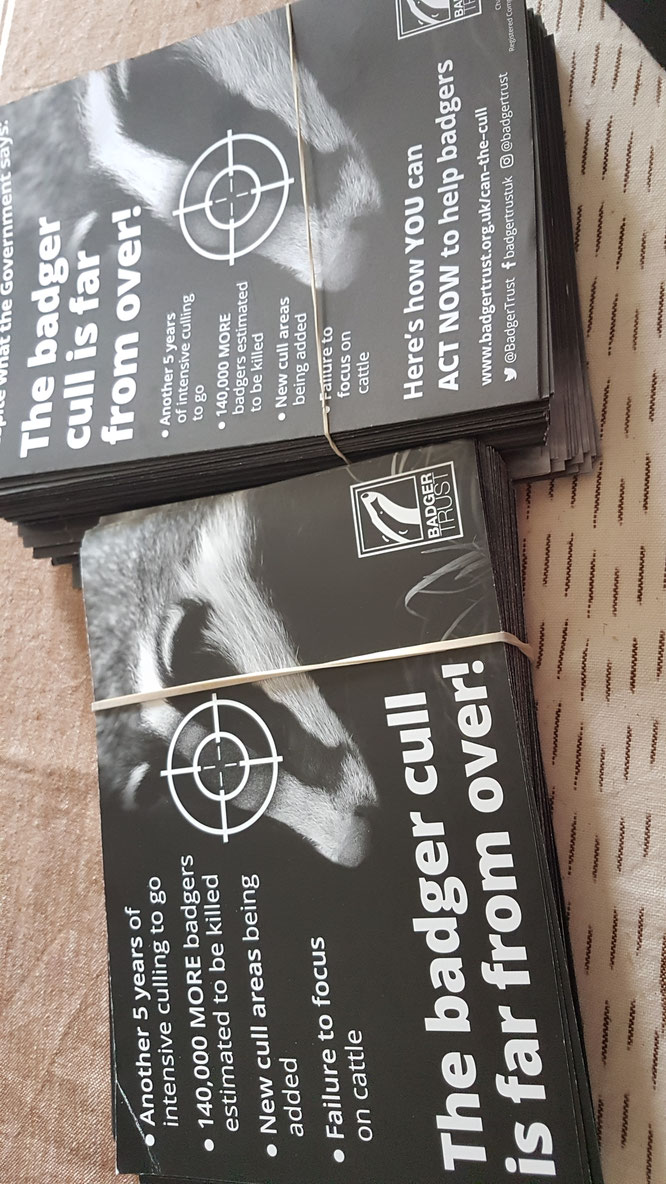 OBG has a stash of leaflets from the Badger Trust along with cards you can use to lobby your MP.
Do get in touch if you've any queries or suggestions.