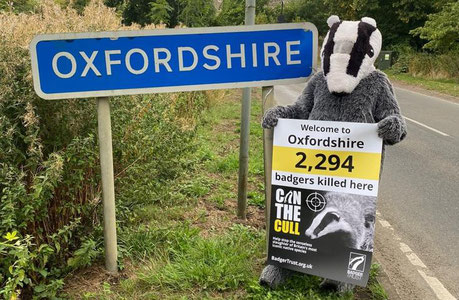 Our Chair, Julia Hammett said "The Government were meant to be phasing culling out by 2025 but are in fact increasing it. The new intensive licences issued will run from August 2022 until 31st January 2026.
We're horrified to learn that a 3rd cull licence has been approved for Oxfordshire, bringing the maximum cull target  in 2022 up to 2389!!!!
This is appalling and heartbreaking".  Now we have to wait to learn how many of the county's badgers have been slaughtered this year
BBWOT also responded to the news : 'Bleak day for wildlife' as 'obscene' badger cull licences granted in Bucks and Oxon
Badger Trust press release (1st November)
The Badger Trust says that "Local extinction of badgers moves closer as badger cull heads for record badger deaths".
After refusing to release this year's intensive cull licence statistics for the first time since the controversial badger cull began, the government has now finally succumbed to public and campaign pressure and published this year's intensive cull licence figures.
So we learn that "Another 11 cull zones have been added to England, covering a land mass almost double the size of London, as the cull intensifies".