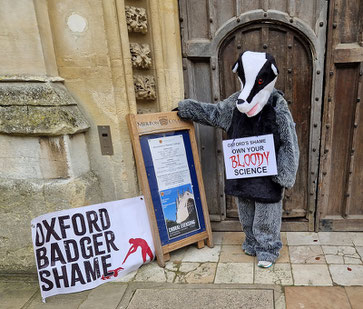 COMETH THE HOUR, COMETH THE BADGERS !
JOIN US AT MERTON COLLEGE THIS TUESDAY
(31st Oct 2023)
TINBERGEN SOCIETY LECTURE

Prof Rosie Woodroffe: Badgering – the quest for science-based management of bovine TB
Tuesday 31st October, 4.45pm-6pm, Merton College
Tickets free, book online: https://buytickets.at/thetinbergensociety/1028242
The UK Government is at a point of policy change: they propose switching from the highly-controversial badger culling to a new badger vaccination scheme to combat bovine tuberculosis (TB) infections in the UK's cattle herds. Prof Woodroffe has been at the forefront of integrating scientific research into TB management policy, including currently advising the Government via its Bovine TB Partnership. In this talk, she will consider the future of UK policy as the Government grapples with its target to eradicate TB from the UK by 2038.
We need YOUR HELP  to speak out against the Cull !
Please register to attend the lecture.
(doors open 4.30 - 1st come 1st choice of seat allocation)
---
Rosie Woodroffe is one of the scientists who designed, ran the Oxford Randomised Badger Cull Trial. She still advocates the peturbation hypothesis that badgers spread bTB.

The Badger Cull started in Oxford. Let's END IT HERE

---
ACT NOW
Please RSVP  to obg@oxonbadgergroup.org.uk and let us know:
if you are going to the lecture
what question(s) you most want to ask Rosie (& would you would like someone else to ask it ?) - this is to help OBG prioritise & avoid duplication
Can you join us for a silent protest against culling at Merton College before the lecture (from 1pm to 3pm?) We can provide posters, badger suits & masks (cos play is optional)