Thanks to everyone who attended - great to meet and see so many members and also to have people from Somerset, Gloucester & Bucks Badger groups join us. A fun and informative afternoon !
The AGM went smoothly. The financial and annual reports were approved. Linda Ward stood down by rotation and was re-elected. A  BIG vote of thanks to all our hardworking committee members and volunteers for another  year of protecting badgers.
We then moved on to hear from  Nigel Fisher, Conservator of Wytham Woods. Nigel regaled us with stories of  Wytham's badgers and the equally cranky scientists that study them. We heard how the woods - trees, plants and the animals that live in them are changing extremely rapidly in response to climate change. Challenges like ash die back mean that the wood could soon be unrecognisable. We learned that Wytham's badger population peaked as warmer winters arrived - with healthier sows sucessfully raising more cubs. The badger numbers have now started to fall. The very much drier spring weather is making it harder for cubs to survive.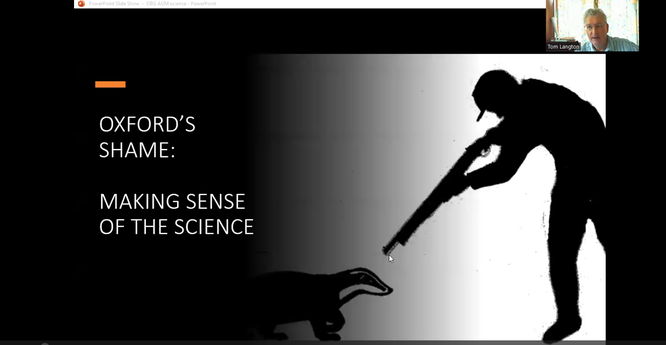 Next we were joined by Tom Langton, an ecologist who campaigns tirelessly to end the badger cull. He managed to make some sense of the governments senseless culling policy.
He warned that the NFU are lobbying DEFRA to continue and intensify the badger cull. We could see 'epidemiological culling' piloted in Oxfordshire as early as next year. Epi-culling or 'EC' is 100% 'reactive'culling in response to a cluster of herd breakdowns. Two such clusters were identified in Oxfordshire in 2021.
We urge everyone who is opposed to culling to support OBG & the Oxfordshire Badger Coalition's campaign to prevent epi-culling from becoming DEFRA policy.
After this sobering talk, the attending 'badgers' held a photoshoot to show how very SAD the cull makes us.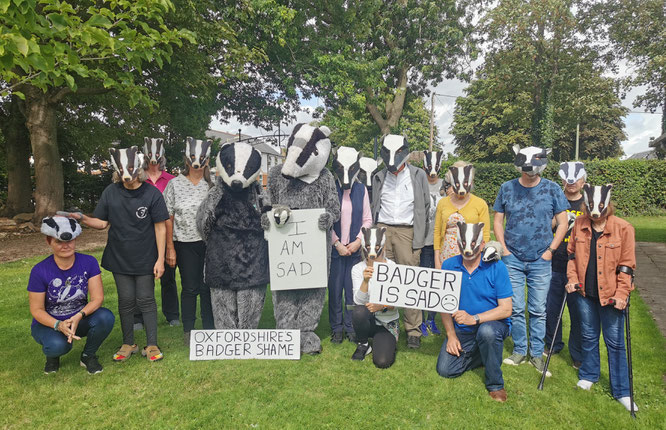 Then it was finally time for our badger quiz - which tested our knowledge of badgers, sett surveying and badgers in literature and film ! Amazingly someone managed to get 14/ 20 questions correct and easily won the felted badger prize.
Our thanks to Mark for organising the quiz and for donating the well earned prize !